Sweetest Day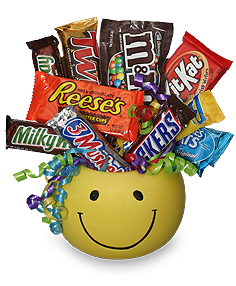 CANDY BOUQUET
Gift Basket
HOW COULD YOU GO WRONG WITH A BOUQUET OVERFLOWING WITH DELICIOUS SWEET TREATS! A great gift for any age... It can be perfectly paired with a plush stuffed animal or balloons. (Please remember that each selection is custom made and substitutions may be necessary. Your order will be produced as closely as possible to the picture.)
Shown at $29.99
CANDY BOUQUET
GIFT BASKET
Yellow Smiley Face Bowl Or Mug, &nbsp Assorted Candy Bars, &nbsp(Shown: Reeses, Snickers, Milky Way, Kitkat, Twix, Butterfinger, M &amp Ms, Three Musketeers).
HOW COULD YOU GO WRONG WITH A BOUQUET OVERFLOWING WITH DELICIOUS SWEET TREATS! A great gift for any age... It can be perfectly paired with a plush stuffed animal or balloons. (Please remember that each selection is custom made and substitutions may be necessary. Your order will be produced as closely as possible to the picture.)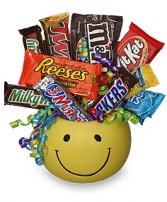 $24.99
$29.99
$44.99
Shown at $29.99
We all know people who go out of their way to do wonderful things for others and never expect anything in return. Sweetest Day is THE DAY to show them how much you appreciate them. Nothing satisfies a sweet tooth like a gift basket full of yummy snacks. ENHANCEMENTS FLOWERS & DECOR in Dodgeville can help you select the right sweets for your sweetie this Sweetest Day!